Poverty and social exclusion are one of the challenges that the today's society is facing. Access to housing is a basic condition of social inclusion. However, it is difficult for someone to rent a flat, let alone buy their own flat, either because of a high refundable deposit or because of their debts.
A non-profit organization called CENTROM provides help for exactly such people. It focuses mainly on families with children living in socially excluded localities in the Moravian-Silesian Region. The goal is to break these families out of ghettos and integrate them into the rental market. CENTROM rents flats and then provides them for people who could never afford such flats without their help. CENTROM cooperates with the Municipal Authorities of Ostrava districts and with the Residomo Company (former RPG flats) which owns flats in Ostrava as well as nearby Karviná. After some time, if the tenants pay properly and there are no problems with them, they can get a tenancy agreement directly from the owner of the flat and CENTROM as an "intermediary" drops out.
"We had only a few flats when we started. Today we have 450 flats and their number could increase to 550 by the end of the year. We have not been taking just any flat offered to us for some time now, but only those in good conditions, located at good addresses and scattered across regular buildings as we do not want to create another ghettos," the company's chief executive Jan Houdek explains.
It is especially important for the children to grow up in a normal environment, not hostels. "Today, the hostels have a better standard compared to the past but the main issue remains – that is a concentration of socially disadvantaged people in one place. The children are then witnesses to all the negative phenomena – gambling, usury, domestic violence…," Houdek adds.
It is crucial for the housing applicants that the refundable deposit is approximately four thousand Czech crowns and they can pay it in instalments, for example by one hundred Czech crowns. "We need to realize that most of our clients come from a different socio-cultural environment. They are not familiar with regular rental housing; they are used to moving from hostels to shelter houses and back. They are not used to fulfilling common responsibilities such as regular electricity payments, etc. The energy bill debt is the most common reason for housing loss," Houdek says.
The CENTROM's work does not end with the family getting a flat – rather it starts. "It is all about a rigorous social work and constant motivation. We are in constant contact with the families that got their flats thanks to our projects. We also keep checking whether the flats are in good conditions and not being destroyed, whether there are no leaking taps, no running toilets or no gas leaks as they all mean extra costs and potential debts again," Houdek calculates. When problems arise, the family can get a second chance but it varies from case to case. "It is different when a father as a breadwinner leaves his family and leaves the mother alone with the children than when someone kicks down a door just because they lost their keys," the chief executive explains.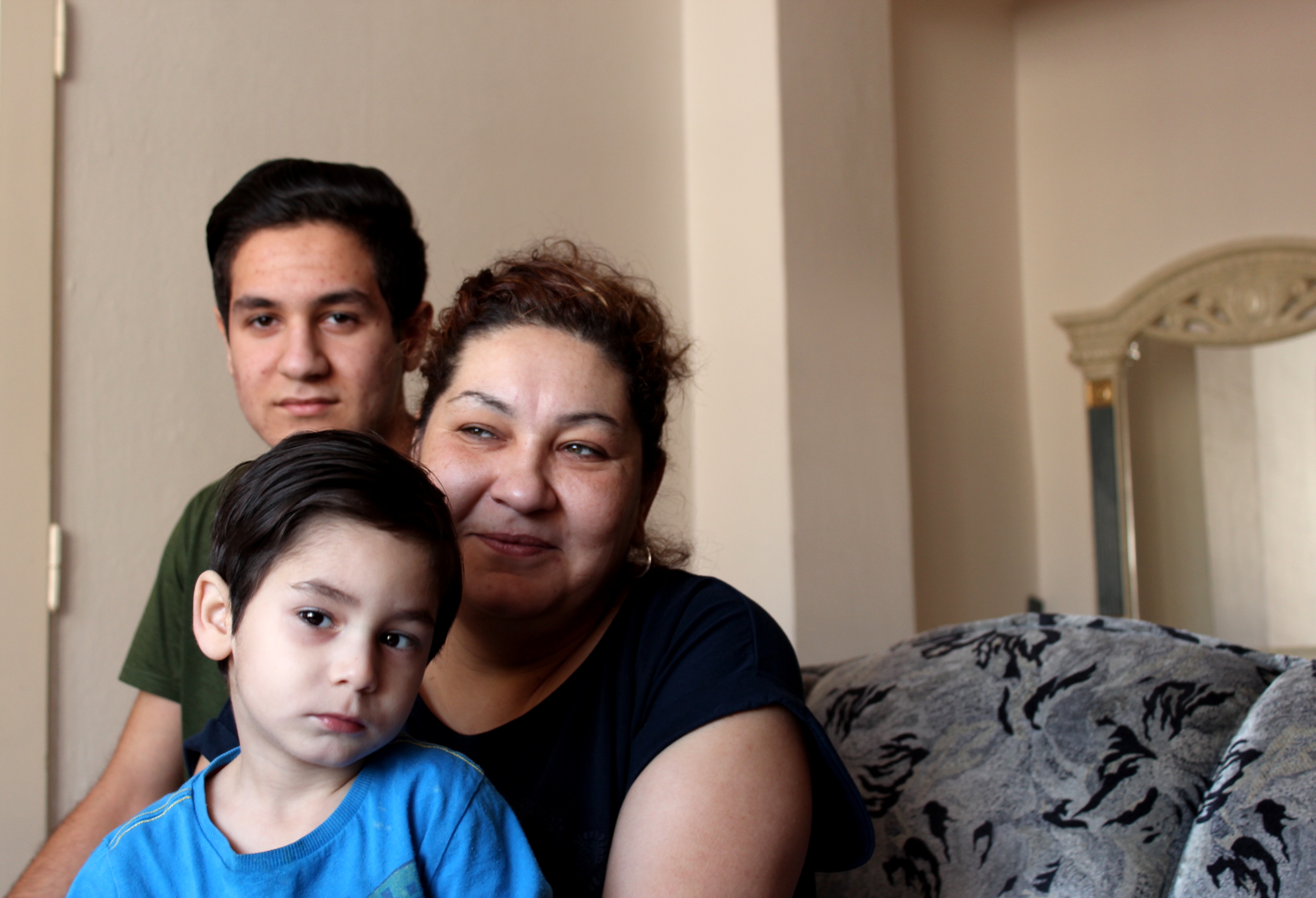 Alžběta Žigová
(41) was born in Ostrava and lives here her whole life. It was not that long ago when she had to move from place to place together with her husband and children. At first, they had a quarrel with the flat owner over high water bill arrears because they should pay even for other tenants in the building and they refused to do that. The owner did not renew their tenancy agreement after that. So they were staying in a one-bedroom flat for a few months. "
There were nine of us there and we had to sleep on a floor,
"
Alžběta
remembers the time when she had few reasons to laugh. "
Then we stayed at our oldest daughter's for a while and at our uncle's after that but we could not stay there forever. It was desperate,
" she describes. Then her sister told her about an opportunity to get housing through CENTROM. She works as a caretaker in a building where CENTROM has several flats rented. "
I filed an application and then was calling them every day asking if anything came up by any chance,
"
Alžběta
says. The application processing took several weeks because the Residomo Company does thorough background checks on all future tenants – those who owed something to them and were not paying off their debt had little hope of success. However,
Alžběta
's family passed the check and what is more, a flat suitable for them was found – a three-bedroom ground floor flat in the Muglinov District. "
I am very happy here. I lived nearby as a child. It is quiet here and I feel safe here,
"
Alžběta
concludes. Her husband is a bricklayer and is already thinking about flat improvements even though it is not necessary at all. Their current tenancy agreement is valid for one month. If they pay all the costs related to the use of the flat, their agreement will be renewed for another month. The intervals are getting longer and longer and the tenants can reach a regular tenancy agreement without any intermediary after approximately two years.
Alžběta
hopes that she will not have to worry about moving for a long time.
Milan Tomes (20) grew up in Karviná. He wanted to become independent and find his own flat due to family disputes. He works as a warehouseman but he could not afford to pay a deposit in the amount of thirteen thousand Czech crowns. "I have always paid everything and never had any debts. When I learned from my friends that the deposit here is only four thousand Czech crowns and can be paid in instalments, I did not want to believe it. At first I wondered whether it is not some kind of a scam," he says. His concerns turned out to be needless. Milan got a flat and when he and his girlfriend became parents, they could even move to a bigger flat. The whole family is now living in a two-bedroom flat in a classic housing estate. The building is not different from other ones with the doors locked during the day. The flat is tidy and so clean you could eat off the floor. "We would like to stay here. There are a nursery school and a primary school nearby," Milan says happily. If he pays his rent properly, he will get a tenancy agreement directly from the flat owner after a while.
Like Alžběta and Milan, another 700 people in Ostrava and 600 people in Karviná live thanks to the projects called "Program bydlení" ("Housing Programme") supported by the European Social Fund. "We have another 150 applicants wanting to live in our flats at this moment. The flats are allocated to them based on the availability of the flats and the size of the family," Jan Houdek adds. 7 families have managed to reach the regular tenancy agreement so far. It could be up to 90 families by the end of next year.
| | |
| --- | --- |
| Operational Programme | Operational Programme Employment |
| Project name | Housing Programme CENTROM |
| Project number | CZ.03.2.60/0.0/0.0/15_022/0000967 |
| Beneficiary | CENTROM z. s. |
| Realization | 1. 1. 2016 - 31. 12. 2018 |
| Subsidy | 10 324 895,- Kč |
| Website | |
| | |
| --- | --- |
| Operational Programme | Operational Programme Employment |
| Project name | Housing Programme CENTROM - Ostrava |
| Project number | CZ.03.2.60/0.0/0.0/15_026/0002785 |
| Beneficiary | CENTROM z. s. |
| Realization | 1. 1. 2016 - 31. 12. 2018 |
| Subsidy | 7 556 716,25 Kč |
| Website | www.centrom.cz |